Its a new year that means new Will and Kate right, no. Actually they are up to their same lame as tricks. Its really bad when the palace releases a statement about Kate taking on more work in the new year without Will and she goes back to what she does best. My gut feeling tells me that this girl walks around that house in the nude with nothing but dolly curls and her jimmy choos on. Poor servants and prince George (not for long because she'll pass him off to the nearest Spanish nanny she can find).
Will and Kate first outing was in Kensington Garden while pushing Prince George around, they've never looked happier.
But then the real Prince William showed up to Cambridge Univiersity (which is were i want to go to study anthropology) and toured the campus he will be attending for 5 – 10 weeks. Its was a made up course fit for a Prince, i'm sorry i cant type about this bs any more. Here's a video and some pictures.
January 07, 2014
Prince William arrives at Cambridge University
The Duke of Cambridge has arrived at St John's College, Cambridge, where he is set to begin a course in agricultural management.
Prince William has met with PhD students whom he will be sharing group seminars with on a bespoke course at St John's College, Cambridge University.
The course is part of the executive education programme at the university, and will prepare him for his inheritance of the Duchy of Cornwall estate.
According to the report in the Cambridge News, the modules he is expected to study include farming and supply chains, rural and planning policy, site management, agricultural policy and conservation governance. He will also go on a number of field trips.
Next. 
Janurary 9th came around and everyone was shitting bricks because they were so concerned about Prince William making it back to LaLa Land in enough time to slip to Lazy Kate.
Meanwhile, what Prince William was heading back for a party without annoying Kate…
Princess Estelle (Queen of Sass) show everyone how to ski with class and style.
january 11th Princess Mary of Denmark went on a tour of by herself…
January 12th they gave Leo a Golden Globe just to fuck with him.
Zara Tindell came out to see her horse race and to also let us know she hasn't popped yet. We wait.
Charolette came out and showed everyone that she is not crazy for attention like kate to loose an unhealthy amount of weight, and to also view the Cartier exhibition in Paris.
Princess Victoria bitched slapped everyone in the face by working with a sprang ankle she got while skiing.
Prince Harry came out to let everyone know that he still had his ginger beard and that him and Cressida could see one another from where they are standing.
this is what she should be doing instead
Princess Letizia attending a meeting. which is something Kate should do, attend a meeting that isn't all flash and glamour show people that you are working even though you haven't been to your charities in a year.
Prince Harry shaved his beard off : (  and showed off his face at the WWTW press conference.
This shit happened and the world made more sense afterwards.
Queen Maxima was seen humming the words to Beyonce song Flawless
Lupita Nyong'o became the name everyone had to say or else your world would fold in on you and destroy you.
Leo and Jonah did this to explain their bromance.
We got a copy of what Will and Kate were doing the whole month of January.
Beyonce did this…
Macklemore looked like this…
Beyonce served up this…
And this Macklemore fiance felt like this…
Princess Eugenie is doing what adults her age do going to Faberge Big Egg Hunt Cocktail Countdown and figuring things out.
Feburary (I added fluff to January because neither Will or Kate did anything for that whole month):
Tatiana and Andrea Casiraghi got married.
The we have Kate doing what she loves and does best holiday-ing. (credit: Popsugar.com)
Then Will and Harry apparently went to hunt for wild boar, after announcing their involvement in protecting these animals and others from cruel hunters. The girl in the picture is Jecca Craig, that right ex-girlfriend of Wills she was apparently the only female with them.
Princess Anne went to the Sochi Olympics only so she could say i read a book in Sochi.
Princess Madeline gave birth to her daughter Princess Leonore
Feburary 11th Kate attended the Portrait Gala and Queen Elizabeth decided she would loan her a necklace. Her damn her ruins the beauty of the necklace, and the constipated look she has on her face.
Prince William attended  United for Wildlife Symposium at the Zoological Society (after coming back from hunting boar).
Princess Madeline thanked everyone for the well wishes and showed she was loosing weight like a normal person (cough: Kate).
Prince Charles, Prince William, and Prince Harry attended Illegal Wildlife Trade on February 13th.
Prince Harry and William February 14th help protect Datchet Green petrol station from the rising flood waters of the River Thames., notice how Harry is standing out in the rain unlike diva William.
And Kate made an appearance on Valentines day as well for the opening of ICAP Art Room.
Please note that Kates outfit cost around $15,000
She went walking in Kensington Gardens again.
Prince William attended the British film awards without Kate. what she passed up a glamourus event.
Zara showed up to the races with baby Mia.
Queen Elizabeth and Kate attended a reception of the Queens patronage Royal Academy of Dramatic Arts.
Zara and Mike showed Will and Kate how to take a family photo.
Princess Eugenie looks like she is coming along great in New York attending amfAR Gala
The the Oscars came in to distract us from the lazy duo…
Ellen tweeted this, and shut twitter down for a moment.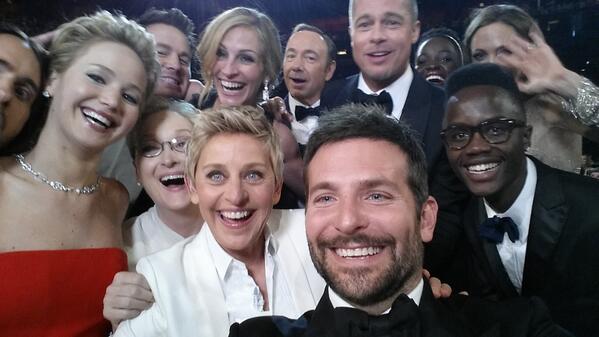 James Franco did this…
Lupita won an oscar and said this…
While Chiwetel Ejiofor, Angelina Jolie and Benedict Cumberbatch got teary eyed during her speech…
Ellen forced everyone to eat at least one meal for that day and ordered pizza…
In the end Leo didn't win the performances by other actors surpassed his.
MARCH:
March 1st Will and Kate came out of hiding to do a little partying, pizza and maybe some karaoke. Notice how Will has the i'm to drunk to care right now look and forgot he was married to a turtle. Then take a look at Kate's oh geez Will the cameras saw everything damn it hes already in the car look.
KATE MIDDLETON AND PRINCE WILLIAM 'JET OFF FOR RELAXING BREAK IN THE MALDIVES AHEAD OF ROYAL TOUR '
So i don't care that they went on a relaxing vacation before the tour without Prince George. But the real concern is most moms cant separate themselves from their children that early on, he's not even a year old yet. Is he annoying them already. Then they go on this trip after both just came from one, she was with her family and he was with his brother, and ex-girlfriend. Whats really sad is they are going to take another vacation after the royal tour. Maybe i should become rich so i can see what they keep going for at these expensive ass locations. Here's something i find funny. A.) you have to book trips to Maldives weeks in advance, so why not work your ass off until that time comes. B.) I'm a fan of the British show The Only Way Is Essex (TOWIE), i one of their episodes from this season everyone was talking about their trip to Maldives. Its been said Kate is a fan of the show, so was she doing what she does best and being a follower with no original thoughts. I'm just saying, well you should take a look yourself at where these two dimwits are staying. (Maldives)
Because of the backlash of this unesscary vacation Prince Harry and his so-called girlfriend Cressida Bonas had to put on a show.
First stop leaving the Ivy with her sister Isabella (Prince William Ex-girlfriend), and Sam Branson.
Then Harry played volleyball at the Invictus games
Then came the PDA at WE Day UK.
People were annoyed that she knew how to braid her hair and decided to do so at the event.
Then Prince Andrew stepped in and said he's going to creep us all out…
His new girlfriend who is way of 28 use to date George Clooney and still lives at home. I can't make heads or tails with these two, is he doing this so he can say hey mom you said i couldn't be with Sarah so how about this. I give you Monika Jakisic who is 33 and a model. Next….
Then Pippa Middleton showed up to Memorial Service for Sir David Frost, and everyone was trying to figure out why the hell was she there and how did she know David Frost. Princess Beatrice and her mother Sarah were also there.
And today, in another post…